A Weekend Away: Bentonville
Written by Johnny Fugitt
Chicago, Louisville, Kansas City and Memphis each offer a change in scenery for a weekend away, but none offer a change of pace like you find in Bentonville, Arkansas. The small, Ozark Mountain town in the Northwest corner of the state offers compelling attractions, unexpected accommodations, notable local cuisine, rugged outdoor scenery and kid-friendly activities.
Bentonville retains its small-town charm with Sam Walton's original dime store featured on a walkable town square, but many of the town's highlights focus on the future rather than the past. Here's your guide for a weekend in Bentonville:
Visit: Considered one of the finest art collections in the country since opening in 2011, Crystal Bridges Museum of American Art has only grown and improved over the past six years. The balletic Moshe Safdie-designed space sublimely frames fan-favorites of Warhol, Rothko and O'Keeffe as well as historic, must-see treasures such as Gilbert Stuart's George Washington, Asher Durand's Kindred Spirits and Norman Rockwell's Rosie the Riveter. Less famous, but a personal favorite, be sure not to miss Duane Hanson's Man on a Bench, or enjoy a stroll through the zen-inducing grounds.
Stay: Much more than an art-filled boutique hotel, 21C Museum Hotel is itself an art destination. Owned by the Waltons, Steve Wilson and Laura Lee Brown and Bentonville Revitalization Inc., thought-provoking modern art fills nearly every nook and cranny of the hotel. Unexpected works such as a chubby Batman soars above treadmills in the cardio room. Suites are individually decorated with a contemporary, elegant aesthetic. Try the 21C Suite and enjoy al fresco dining on your private patio from in-house restaurant The Hive featuring James Beard Award Semifinalist Matthew McClure.
Eat: Bentonville's burgeoning restaurant scene includes a number of quality options, none more interesting than MOD (Modern Ozark Dining). Enjoy the chef-guided meal with an ever-evolving menu to include the freshest of locally available wares. The name isn't deceptive, but don't let "Modern" scare away the more traditional diner. Most dishes feature familiar ingredients and flavors, but with modern preparation techniques and plating. A meal at MOD is an exploration of the new, yet also firmly rooted in the dining traditions of the Ozarks.
Take a break: Grab a steamy brew from Onyx Coffee Lab near the town square. The curated international selections and beautiful space make for a worthwhile detour. For a different kind of buzz, tour the city's microbrew scene starting with Bike Rack Brewing Company, New Province Brewing Company and Bentonville Brewing Company.
For the kids: Most places in Bentonville are family-friendly, but the Amazeum is a place specifically designed for the imaginations of children. With hands-on exhibits featuring science, arts and the outdoors, it's a little bit Magic House, St. Louis Science Center and City Museum all wrapped up in one.
For fresh air: Meandering mountain bike trails line the rocky hills and green meadows surrounding Bentonville. If you want to get on the water, scenic Beaver Lake is nearby.
All within a five-hour drive (mostly) down Highway 44, Bentonville promises a fun family weekend or memorable couples' escape.
Courtesy of 21C Museum Hotels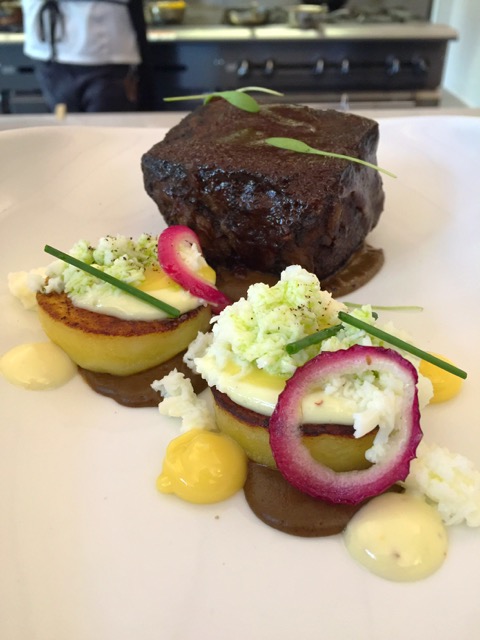 Short Rib Confit with open-raced potato salad, photo courtesy of MOD Restaurant
Onyx Coffee Lab, Bentonville, AR, photo by Niki Mangan